Keeping it in the family
Highstreet Outlet is a family run business based in Poole, Dorset. It's run by sisters Julie and Katrina, bringing their experience in fashion & textiles teamed with HR & training expertise together in this joint venture.
"We work well together, and understand each other, coming to work is both fun and productive!"
We have been trading within the Fashion Textiles industry for the past 15 years and have gained strong links with suppliers enabling us to offer famous high street brands at heavily discounted prices. We started as a home business and now we are in the process of moving, yet again, to larger premises here in Poole.
We are thrilled to announce that we have been awarded a government grant for innovation, enabling us to offer further opportunities for growth and employment.
As well as our online shop we also have a click and collect service for our local customers here in Poole, which is very popular!
We pride ourselves on our customer service, and this will always remain at the heart of everything we do.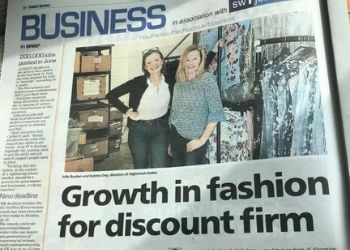 OUR COMPANY ETHOS
Our company Ethos is simple- we believe that every woman, regardless of shape, age or budget has the right to look lovely!
We love being able to offer good quality items at super low prices. We only pick the good brands, and over the years we have developed a trained eye for those key style pieces!
From teenagers to pensioners-we think all women should feel good about themselves and be able to step out in style.
QUALITY, PROFESSIONALISM AND FRIENDLINESS…
If you have a question about your order or a product you have seen online you can contact us on:
Email: enquiries@highstreetoutlet.com
Company No.: 08622009
Date of Incorporation: 24/07/2013
Company Type: Private Limited Company
VAT Number: GB 987856729
Place of incorporation; UK
Registered Office:
PKF Francis Clark Ltd
Towngate House
2-8 Parkstone Road
Poole
Dorset
United Kingdom
BH15 2PW